The Portable Bobbin Winder:
"I pray this winter be gentle and kind–a season of rest from the wheel of the mind. "
I recently received the SideWinder as an accessory to my sewing machine. I've been considering purchasing this product for a while, but I wasn't sure how it worked or even how useful it would be. This article reviews the product's features, pricing, and availability.
SideWinder – What Is It?

 
As the name implies, it is simply a portable bobbin winder. It does not attach to your sewing machine or to any other device. You can wind  Bobbin Winder independently of your sewing machine to save time threading and rethreading during a project. You can also rewind bobbins to save your sanity if you have a hard-to-read bobbin on a longarm machine.
How Does It Work?

 
The SideWinder can run on 2 AA batteries or by using the included power cord. I've used the device several times just today to preload bobbins for a project. The bobbins wind very fast and with minimal noise. There is a slight whirring noise, but it is such an inconsequential noise in so useful a tool.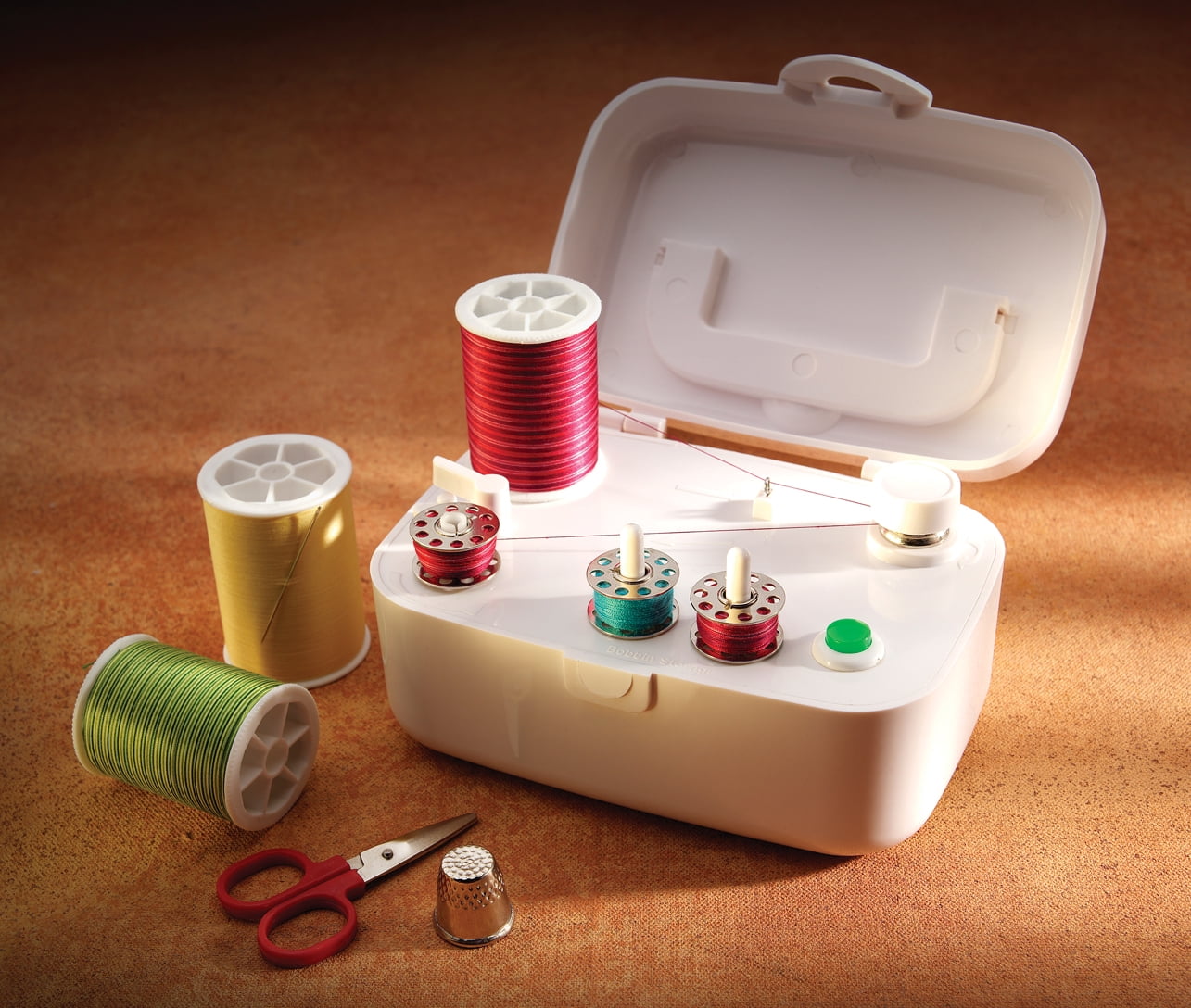 Once you lift the threaded spindle and add your thread spool, you wind the thread following the printed arrows. Be sure to thread it through the little metal loop prior to the thread tension disk. Snap the bobbin into place gently and press the green button to start. Let go and have fun! The bobbin will stop when it is completely full. It takes under a minute to load a standard size bobbin. You can load larger Bobbin Winder as well.
How Much Does it Cost and Where Can I Get One?
The cost varies depending on the retailer and if it is on sale. The average price is around $30-$35. If you have a JoAnn's store near you that carries these little machines, use your 40% off coupon for a great deal! If you cannot find one at a local retailer, you may be able to purchase one online at places such as Amazon or eBay. Ask your local quilt shop to order some and hold one for you.
What Comes With It?

 
The SideWinder Bobbin Winder comes in a self-contained sturdy plastic white box. The lid snaps down to close and there is a little carrying handle on top. There is a small piece of felt on the threaded spindle that can come off easily so just be sure to check the bottom of your thread spool if it is missing.
The 2 AA batteries can be inserted into slots in the bottom. A black power cord is included.
The machine is very lightweight and small. It measures approximately 6 inches long by 3 inches wide by 3 inches deep.