Idahoan Original Mashed Potatoes
"There are only three things women need in life: food, water, and compliments."
Idahoan Original Mashed Potatoes: After a long morning of shopping, we were getting tired and hungry. We did not want to fight the crowds at a restaurant and we did not want to spend a lot of money and we were tired of fast food. My sister suggested that we all go back to her house and she said that she could whip us all up a nutritious lunch in ten minutes or less. So naturally, we did not believe that she could fix a meal in that short of time that tasted good. My Mother and I just looked at each and said yeah right.
We went to the living room and sat down and we thought we would be eating a sandwich of some kind like ham and cheese or bologna and cheese and some chips. Were we surprised by what we did have for lunch? Within three to four minutes of sitting down in the living room, there was an incredible aroma coming from the kitchen filling the air. We looked at each other and said, well that is definitely not bologna we smell. A couple of minutes later, my sister called us to the dining room table and said let's eat.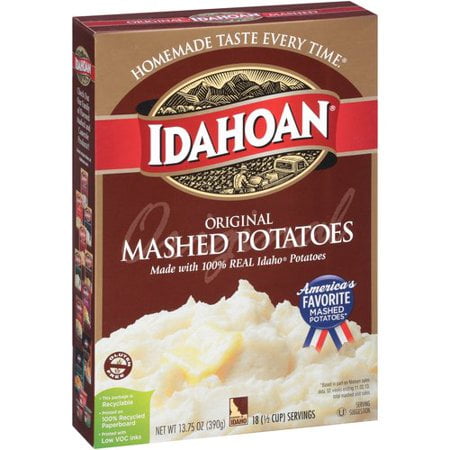 We sat down and looked at our food and we saw the most delicious cuts of beef laying in a thick pool of brown gravy. We each spooned some out onto our plates and the first bite of the beef was amazing. Tender, juicy chunks of beef that fall apart in your mouth and burst with flavor. The gravy was incredible. The beef tips and gravy taste like they have been simmering in a slow cooker all day long but they come frozen and are ready in five minutes from the freezer to microwave.
The beef tips and gravy comes in a white, square plastic container and there is a paper label wrapped around the container. The product is already fully cooked and there are cooking directions on the back label for a conventional oven as well as a microwave. The product is frozen and sealed in an airtight clear wrapper for freshness. The front of the label has a picture of the beef tips and the gravy. There are no preservatives. Nutrition facts are listed on the back label.
Idahoan Original Mashed Potatoes: This was served along with the beef tips and the first taste of these was just like a real potato. The potatoes are creamy and smooth and buttery and there are no chunks of potatoes. The products come in a two-ounce package and on the front are the words Idahoan in white capital letters and there is a little picture right under this of a man in a potato field and he is loading potatoes into the back of his pickup.
In the middle of the package are the words original mashed potatoes all in capital lettering and under that, it says Made with 100% Real Idahoan Original Mashed Potatoes. That is why they taste just like a real potato. The nutrition facts are listed on the back. The product itself is white potato flakes. When you want a quick but nutritious meal, you cannot go wrong with these two products. A green salad would go excellent with this as well.
It is yummy to the tummy!